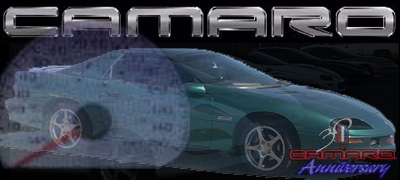 LINKS

Erin's Page This is my friend Erin's website. She really knows how to capture the funnier moments of college on film!

Z28ROC's Garage This is a fellow F-body's website. Mario has a pimped out White '94 Z28. Believe me, this thing can move.

Camaroz28.com - Full Throttle InternetThis is quite possibly the most informative site around for camaro or any other general car knowledge. Awesome cars, awesome people!

Chevrolet Need a car? Go here!

Kelly Blue Book This is quite possibly the best resource to find the value of your car, if you're buying or selling.